Target marketing and types
Definition Target marketing
Target marketing means to focus of the firm in satisfying one or more selected market while mass marketing means to satisfy everybody in the market. For example: Lakme products target only women; while Garniar used to practice mass marketing by targeting both men and women.
4 Types of target marketing
 1.) Undifferentiated marketing:- it is also known as mass   marketing. In this type of marketing the firm offers only one product and draws the attention of the consumer with only one product for which the firm uses mass advertising. Like lux soap.
2.) Undifferentiated marketing:- it is also known as segmented marketing. Here the firm divides the market in different segments and offer different kind of products for different segment. Like Maruti udhyog ltd. offer different brands of cars to suit every class of buyer.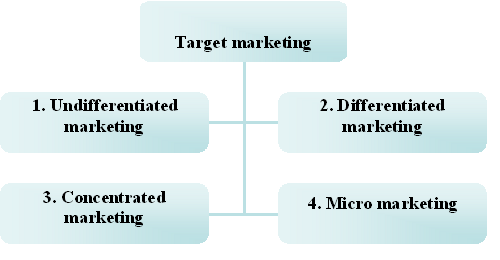 3.) Concentrated marketing:-this kind of marketing is also called niche marketing. Here the company tries for a larger share of small market or niche because it gives more profit to the firm.
4.) Micro marketing:- it is also known as local or individual marketing. This kind of marketing satisfies individual or local needs. Like boutiques provide service to the customers as per their needs.
Therefore in summary following are the important types of target marketing.